Special Workshops
For those interested in learning how to care for their children in emergency situations, First Aid Workshops offer non-certification courses that can be adapted to various audiences.

Our goal is to provide an opportunity for parents and caregivers to learn basic First Aid in a familiar setting, and be able to share the experience with friends and family. The workshop is ideal for a group of parents, friends, community group or school group.

Baby and Child First Aid Workshop


This is a one of a kind workshop targeted to groups  who do  not require certification, but are interested in learning how to care for their children in emergency situations. Our goal is to provide an opportunity for parents and caregivers to learn basic first aid in a familiar setting, and be able to share the experience with friends and family. The workshop is ideal  for a group of parents, friends, community group, or school group. 
Benefits of our unique workshop include:
Learn how to handle emergencies, basic CPR skills, first aid for choking emergencies and common injuries
Relaxed learning environment - the workshop can be held at your home, on-site of your business, or at an off-site location
Plenty of hands-on-practice - all equipment is supplied
Share the experience with family - we encourage the participation of children and involve them in demonstrations
Workshops are conducted by a certified Canadian Red Cross Instructor
Workshop Format:
Topics include: First Aid for choking, respiratory emergencies, cardiac arrest, severe allergic reactions, and wounds.  
We can conduct the workshop at your home or location of your choice
Course is approximately 3 hours in length, which includes time for breaks
Our instructor will introduce each topic and provide a demonstration
Participants will have an opportunity to practice on our CPR mannequins, and if          possible, will also learn correct positioning on real children
Babies and children are welcome
Topics can be tailored to audience's request


Intro to First Aid (2-4 hours)

Workshop offers a brief overview of First Aid and CPR (if requested a CPR level E, non certification card can be issued) .

This workshop is ideal:
For those who want a short introduction to First Aid and CPR (non-certification)
As a "lunch and learn" for the office
For an older audience or those who would have physical limitations in performing first aid and CPR skills
Content:  There is no specific content.  The workshop will be customized to the needs and requirements of the audience.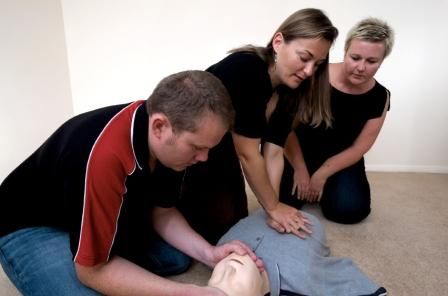 Prevention of Disease Transmission (1-2 hours)
This workshop is ideal:
For those who want  to reduce illness in a work/school setting
As a "lunch and learn"
Content:  The workshop can be customized to meet the specific needs and requirements of the audience.
 First Aid Workshops – Custom Topics:
Other first aid workshops can be offered that are customized to meet the needs of the audience.
Content:  The workshop content will be customized to the specific audience needs, offering content from our Intro to First Aid with particular focus on areas of interest (eg. Falls, etc).
Sign up today for a Pulse CPR customized workshop!